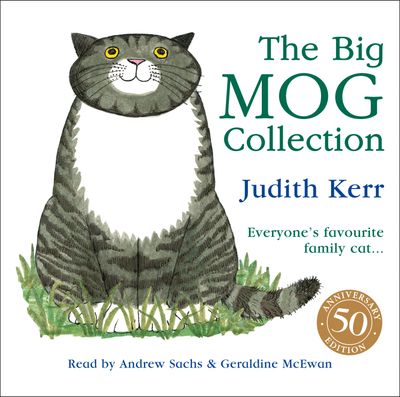 The Big Mog Collection
By Judith Kerr, Read by Geraldine McEwan and Andrew Sachs
Share in fifty years of a really remarkable cat…
Mog is everyone's favourite family cat! Join her in this delightful CD collection of her favourite adventures, full of her warm-hearted and funny escapades and read by the wonderful Andrew Sachs and Geraldine McEwan.
Celebrate the fiftieth anniversary of Mog the Forgetful Cat with special anniversary editions of her much-loved adventures.
From the creator of The Tiger Who Came to Tea and Mog the Forgetful Cat comes a remarkable audio collection of five delightful family adventures about a really remarkable cat!
Featuring:
Mog and the V.E.T.
Mog the Forgetful Cat
Mog and the Baby
Mog's Christmas
Mog's Amazing Birthday Caper
With music and sound effects, and extended text written especially for the audio by Judith Kerr, this incredible collection is read by the incredibly talented and beloved actors, Geraldine McEwan and Andrew Sachs.
Mog the Forgetful Cat was first published fifty years ago, and Mog has been delighting children all over the world with her adventures ever since. These stories are the perfect gifts for boys, girls and families everywhere!
Listening time approx. 60 minutes.